TNA Impact! is the first and only game to the title TNA.The game was published and developed by Midway games.TNA Impact! is the only wrestling video game with a partially different engine,it uses the Unreal engine 3.The game was first released in in September 9,2008 for the PS3,X360 and PS2.It was later released in March 2,2008 for the Ninendo Wii.
Development and Production
Edit
TNA signed a brief note to Midway games that they are looking foward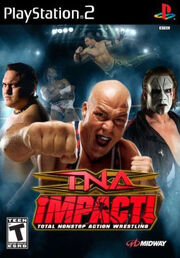 to make a game on all seventh-generation platforms.The reason was that TNA thought that they were going down and were impressed by the show-up that EA games and Rockstar agme showed.It was first announced in October 23,2006. TNA's AJ styles and Samoan Joe are themselves huge gaming fans.They took in the making along with others like Daniels,Sonjay Dutt,Senshi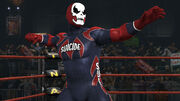 and the maker off TNA Jeff Jarrett.
The game is quick and had a lack of submission maneuvers,it was hardcore and high impact on gameplay.Multiplayer was divided into 2 parts:
Online Multiplayer:In which extra special tounaments are included and up to 4 players are playable.Due to small faliures the PS3 and X360 online gameplay was limited.
Movements of the game were scanned by real-life matches.HUD meter in SmackDown! vs Raw was removed for this game,they used the Impact! meter which was not much different. The game included minigames,being the first wrestling game to have minigames. Midway has now introduced downloadable content which enables players to expand the game, making TNA Impact! the first professional wrestling video game in history to offer this service.The downloadables were Curry Man(an attire of Daniles) and Petey Williams.
The main story was on a wrestler named Suicide.During every iMPACT! episode after the August 14, 2008 version of iMPACT!, the words "whoissuicide.com" flashed on the screen for less than a second. On the website, it shows that Suicide is being taken from the game to real life television.At Final Resolution, Suicide entered the TNA World.At the end Suicide needs to win the Ultimate X match and for getting the X division belt.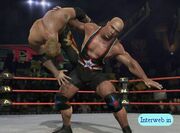 TNA announced that they might make another game which will be called TNA Impact:Cross the Line.It was disscused with Midway at June,2009.